Project Owner: Indiana Department of Transportation (INDOT)
Indiana's unprecedented commitment to building and maintaining our infrastructure continues to
receive national attention. For the 6th year, Indiana has placed in the top five of CNBC's infrastructure
ranking, this year coming in at #1.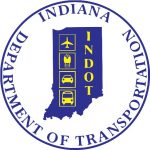 Municipal Owner: City of Hobart
The City of Hobart is located in Lake County, Indiana, United States. With a population of 29,059 according the 2010 census the City's has seen recent growth in commercial, business, medical, and light industrial uses.

Construction Engineer: Butler, Fairman & Seufert, Inc.
Butler, Fairman & Seufert (BF&S), is a premier full-service civil engineering firm with approximately 150 employees including Professional Engineers, Land Surveyors, Landscape Architects, Architecture Historians and technical support staff. BF&S was founded in 1961 to provide civil engineering solutions for better communities. BF&S is well known for our depth of technical expertise and responsive service. Headquartered in Indianapolis with offices in Lafayette, Merrillville, Fort Wayne, Plainfield and Jeffersonville, BF&S provides communities across the state with high quality engineering for infrastructure solutions.
Design Engineer: DLZ
With over 800 people in 27 offices in America and Costa Rica, DLZ is one of the top consulting firms in the architectural, engineering, and surveying industry. The firm is ranked #139 by Engineering-News Record (ENR) on their Top 500 Design Firms in the United States and the 14th largest in the Midwest. DLZ professionals work together as a team to safely deliver a wide range of project sizes and types across the country.
DLZ's engineers, architects, planners, and technical support staff are innovative and understand that every project is different. We have the experience and expertise to realize that each client's needs and wants are unique. We approach each project with this in mind and stand behind the work that we do.

Prime Contract: F.H. Paschen
F.H. Paschen has a long history of delivering civil infrastructure projects that are true investments in communities. Projects that improve access and provide connections to jobs, family, and neighborhoods. We excel at challenging projects with aggressive schedules that involve complex logistics and coordination. Our project teams know the importance of expert phasing, sequencing, and minimizing operational and community impacts.

Project Construction Contact
Brandon Towle
Email: Hobartimprovements@bfsengr.com